Gas Purification Furnaces
The Model OG-120 is a desktop size purification furnace designed to supply purified Inert Gases for smaller manufacturing production demands or for laboratory needs. Gasses processed by this furnace include Argon, Helium, Neon, Xenon, and Krypton.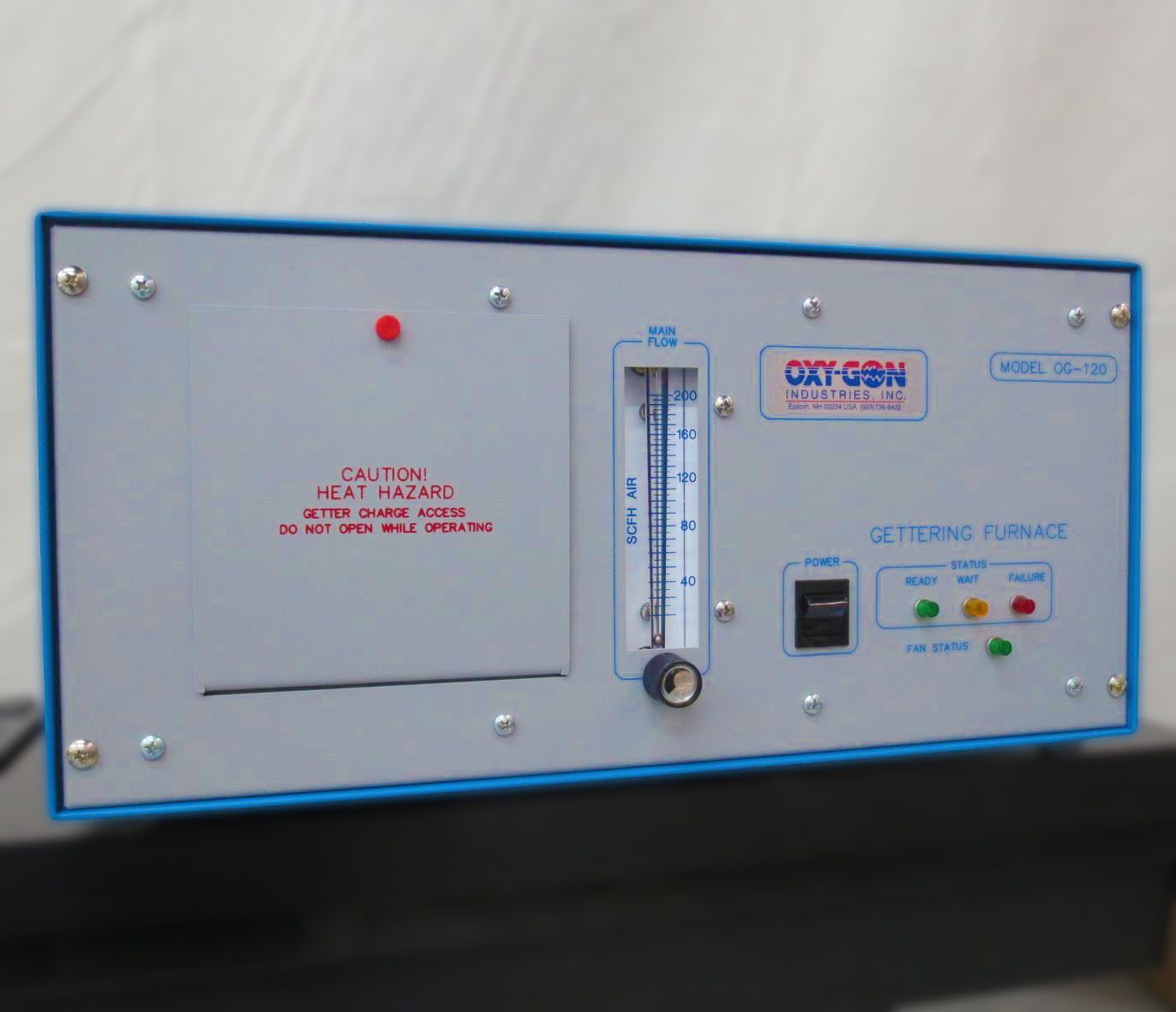 Oxy-Gon is your best choice for gas purification laboratory furnaces. Designed for those needing a small lab furnace, our OG-120 gas purification furnace is a completely self-contained solution that you can rely on to purify inert gases to less than 1PPB of oxygen or better. In addition to removing oxygen, the OG-120 gas purification furnace also removes Nitrogen, Carbon, and Water Vapor, making it a comprehensive solution for a wide variety of lab and production applications.
Moreover, by installing a special optional cartridge, the oxygen content of Nitrogen can be purged to the PPB range. Each getter cartridge can supply as much as 180,000 cubic feet of purified gas when used with standard industrial gas containing oxygen as high as 9-10 PPM. Plus, replacing the cartridges is easy with its convenient front panel access door.
We also have a Model OG-120M gas purification furnace with the addition of an oxygen monitor included within the self-contained chassis assembly.
Features of the OG-120 gas purification furnace include:


An auto ranging digital readout with manual override percent

Electronic calibration from the front panel

Raw or purified gas Oxygen level readout

Why Choose Oxy-Gon as Your High-Temperature Partner?
"Oxy-Gon has been an indispensable partner in our business. They worked very closely with us to provide an equipment solution that met our process needs, as well as our budget. Also, their response to questions regarding their equipment has been very accommodating. We've always been able to speak with a knowledgeable person right out of the gate, who has been able to quickly answer our questions. I would happily recommend this company to any customer in search of a high-quality, well supported piece of equipment."
G.D. , Chief Operating Officer

"From full-functioning systems to small replacement parts, working with Oxy-Gon has been a pleasant experience. They understand what my end goal is and offered practical and useful suggestions that have helped move our projects forward. Their experience has been key in keeping our furnace functioning at peak performance."
J.L. , PhD & Chief Technology Officer

"Quick replies to questions and great customer service is what first attracted us to Oxy-Gon, but their deep understanding of high-temp processing is what helped us pull the trigger on a furnace.  Our relationship with Oxy-Gon has been and continues to be instrumental in moving our business forward."
H.S. , PhD, President & CEO