OXY-GON's Modified FR Series Furnaces are configured specifically for Crystal Growth Systems by Bridgman-Stockbarger and Directional Solidification Techniques.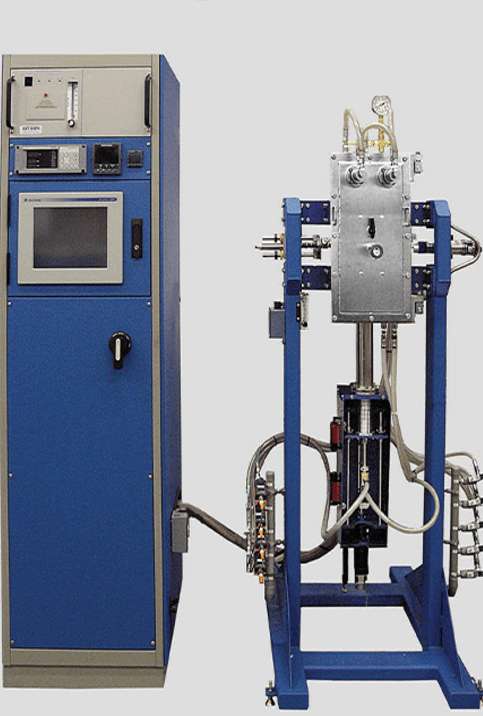 OXY-GON design and manufacturers these systems for ease of operation and reliability to provide years of continuous service. The perfect solution for research and university laboratories.
Our crystal growth furnaces use our OXY-GON Crystal Pullers and/or translation mechanisms, specifically engineered to provide smooth translation during the crystal growth process using micro-stepping motors that are controlled by the main PLC. Rotational stages can be added to the crystal pullers as well.
Designed specifically for Crystal Growth Systems by Bridgman-Stockbarger and Directional Solidification Techniques.
Our crystal growth furnaces also provide a variety of heat zones for different applications.
Our single zone refractory metal heat zone for a Bridgman Crystal Growth Furnace System drops into a separate water-cooled vacuum chamber.
Our single zone heat zone configuration incorporates a water-cooled plate that facilitates establishing steeper axial gradients for directional solidification processes.
Our crystal growth furnace with a custom Graphite heat zone, that has been modified to include a retractable pedestal for rapid thermal processing. Graphite heat zones are typical for Czochralski Crystal Growth Furnace Systems. Similar graphite heat zones are available for directional solidification process up to 2800°C.
The basic crystal growth furnace system includes the furnace assembly and choice of heat zone, temperature controls and power supply, crystal puller—translation mechanism, evacuation system, and inert gas supply.
Why Choose Oxy-Gon as Your High-Temperature Partner?
"Oxy-Gon has been an indispensable partner in our business. They worked very closely with us to provide an equipment solution that met our process needs, as well as our budget. Also, their response to questions regarding their equipment has been very accommodating. We've always been able to speak with a knowledgeable person right out of the gate, who has been able to quickly answer our questions. I would happily recommend this company to any customer in search of a high-quality, well supported piece of equipment."
G.D. , Chief Operating Officer

"From full-functioning systems to small replacement parts, working with Oxy-Gon has been a pleasant experience. They understand what my end goal is and offered practical and useful suggestions that have helped move our projects forward. Their experience has been key in keeping our furnace functioning at peak performance."
J.L. , PhD & Chief Technology Officer

"Quick replies to questions and great customer service is what first attracted us to Oxy-Gon, but their deep understanding of high-temp processing is what helped us pull the trigger on a furnace.  Our relationship with Oxy-Gon has been and continues to be instrumental in moving our business forward."
H.S. , PhD, President & CEO

"Oxy-Gon did an outstanding job with the installation of our high temperature furnace. Their professionalism and thoroughness are greatly appreciated. We will be able to generate some exciting research results from our Oxy-Gon furnace."
K.L., Ph.D. & Professor