Bell Jar Loading Furnaces
Oxy-Gon's Bell Furnace is designed to provide years of continuous service for applications involving movement sensitive loads.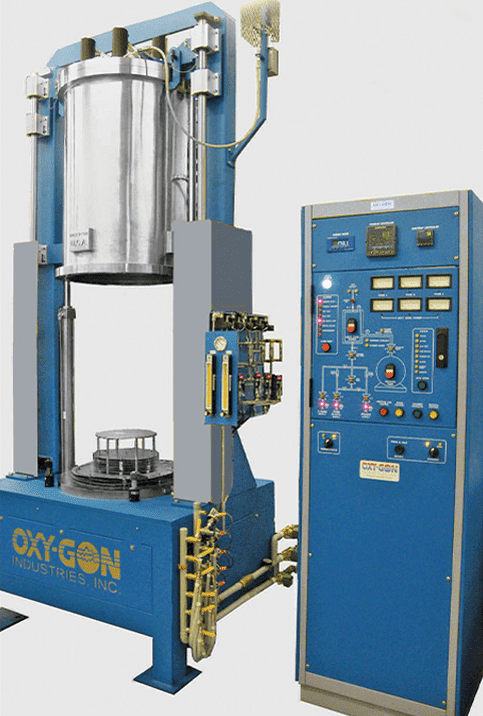 For delicate parts and loads that have a high sensitivity to movement, Oxy-Gon has designed the ideal solution with our BF Series Bell Furnace. With the most sensitive loads in mind, our bell-style furnace has been designed for optimal performance and ease of use. It features a stationary bottom hearth used for staging the load, which is then combined with a chamber that is lowered over the product and clamped in place to ensure completely uniform heating.
The BF Series Bell Furnace is designed to optimize space, performance, and flexibility for a wide variety of heat treating, laboratory, and production applications. Moreover, with its minimal particulate contamination, it's the perfect choice for semiconductor production or applications involving medical devices.
The basic Bell Furnace system includes the furnace assembly, power supply, heat zone, and evacuation system.
Applications for the BF Series Bell Furnace include:









Carbon Glass & Ceramic Composites
Why Choose Oxy-Gon as Your High-Temperature Partner?
"Oxy-Gon has been an indispensable partner in our business. They worked very closely with us to provide an equipment solution that met our process needs, as well as our budget. Also, their response to questions regarding their equipment has been very accommodating. We've always been able to speak with a knowledgeable person right out of the gate, who has been able to quickly answer our questions. I would happily recommend this company to any customer in search of a high-quality, well supported piece of equipment."
G.D. , Chief Operating Officer

"From full-functioning systems to small replacement parts, working with Oxy-Gon has been a pleasant experience. They understand what my end goal is and offered practical and useful suggestions that have helped move our projects forward. Their experience has been key in keeping our furnace functioning at peak performance."
J.L. , PhD & Chief Technology Officer

"Quick replies to questions and great customer service is what first attracted us to Oxy-Gon, but their deep understanding of high-temp processing is what helped us pull the trigger on a furnace.  Our relationship with Oxy-Gon has been and continues to be instrumental in moving our business forward."
H.S. , PhD, President & CEO