Physical Testing Furnaces
Whether it's for Tensile Testing or Creep, Oxy-Gon supplies furnace systems that accommodate many of the different test frame manufactures.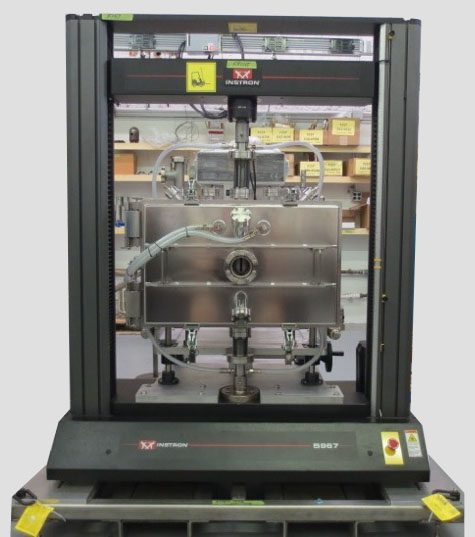 Our Physical Testing Furnaces allow for a combination of high temperature, controlled atmosphere, and physical testing that is outside of most manufactures ability to provide. Implementing our furnace  expertise, with the test frame technology, the physical test furnaces allow samples to be tested for compression strength, deflection, fatigue, multi-axial testing, tensile strength, torsional strength, etc. using various temperatures and controlled atmospheres.
Oxy-Gon's water-cooled, stainless steel chambers allow for the adaptation of extensometers, test equipment, and test grips, using custom ports and feed throughs.
Basic High Temperature Furnace System includes the following components:
Furnace Assembly
Heat Zone
Power Supply
Evacuation System
Inert Gas System
Additional features and specifications are also available
The Heat Zone
Depending on the operating temperatures of the unit and your common applications, the element and shield packages are available in Molybdenum, Tantalum, Tungsten, or Graphite.
Why Choose Oxy-Gon as Your High-Temperature Partner?
"Oxy-Gon has been an indispensable partner in our business. They worked very closely with us to provide an equipment solution that met our process needs, as well as our budget. Also, their response to questions regarding their equipment has been very accommodating. We've always been able to speak with a knowledgeable person right out of the gate, who has been able to quickly answer our questions. I would happily recommend this company to any customer in search of a high-quality, well supported piece of equipment."
G.D. , Chief Operating Officer

"From full-functioning systems to small replacement parts, working with Oxy-Gon has been a pleasant experience. They understand what my end goal is and offered practical and useful suggestions that have helped move our projects forward. Their experience has been key in keeping our furnace functioning at peak performance."
J.L. , PhD & Chief Technology Officer

"Quick replies to questions and great customer service is what first attracted us to Oxy-Gon, but their deep understanding of high-temp processing is what helped us pull the trigger on a furnace.  Our relationship with Oxy-Gon has been and continues to be instrumental in moving our business forward."
H.S. , PhD, President & CEO

"Oxy-Gon did an outstanding job with the installation of our high temperature furnace. Their professionalism and thoroughness are greatly appreciated. We will be able to generate some exciting research results from our Oxy-Gon furnace."
K.L., Ph.D. & Professor