The BF Series Bell Furnace
The BF Series Bell Furnace is designed to provide years of continuous service for applications involving movement sensitive loads.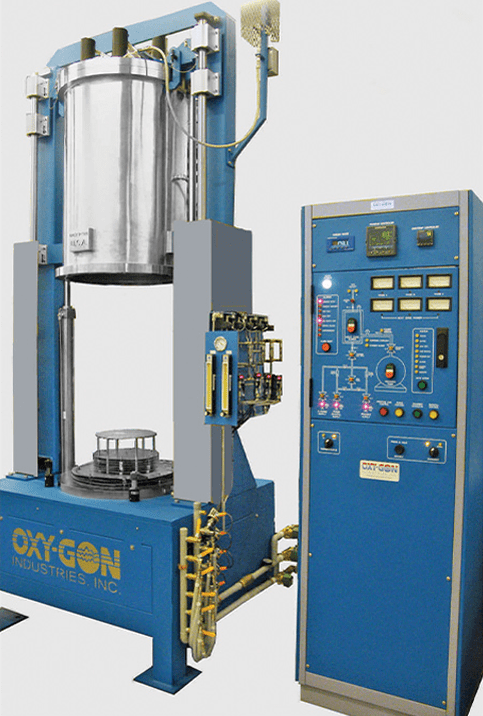 The BF Series Bell Furnace
The basic Bell Furnace system includes the furnace assembly, power supply, heat zone, and evacuation system.
For delicate parts and loads that have a high sensitivity to movement, Oxy-Gon has designed the ideal solution in the form of our BF Series Bell Furnace. With the most sensitive loads in mind, our bell-style furnace has been designed for optimal performance and ease of use. It features a stationary bottom hearth used for staging the load, which is then combined with a chamber that is lowered over the product and clamped in place to ensure completely uniform heating.
The BF Series Bell Furnace is designed to optimize space, performance, and flexibility for a wide variety of heat treating, laboratory, and production applications. On top of this, the all-stainless steel, tungsten, or molybdenum hot zones provide an environment particularly fitting for applications that require minimal particulate contamination, ranging from semiconductor production to applications involving medical devices.
Typical applications for the BF Series Bell Furnace include:








Carbon Glass & Ceramic Composites
How Can We Help Your Process
"Lorem ipsum dolor sit amet, consectetuer adipiscing elit. Aenean commodo ligula eget dolor. Aenean massa. Cum sociis natoque penatibus et magnis dis parturient montes, nascetur ridiculus mus."

TESTIMINONIAL NAME
"Lorem ipsum dolor sit amet, consectetuer adipiscing elit. Aenean commodo ligula eget dolor. Aenean massa. Cum sociis natoque penatibus et magnis dis parturient montes, nascetur ridiculus mus."

TESTIMINONIAL NAME
"Lorem ipsum dolor sit amet, consectetuer adipiscing elit. Aenean commodo ligula eget dolor. Aenean massa. Cum sociis natoque penatibus et magnis dis parturient montes, nascetur ridiculus mus."

TESTIMINONIAL NAME