The Oxy-Gon EC Series End Loading Tube Furnaces
The EC Series End Loading Furnace is designed to provide years of continuous service while requiring a low investment cost.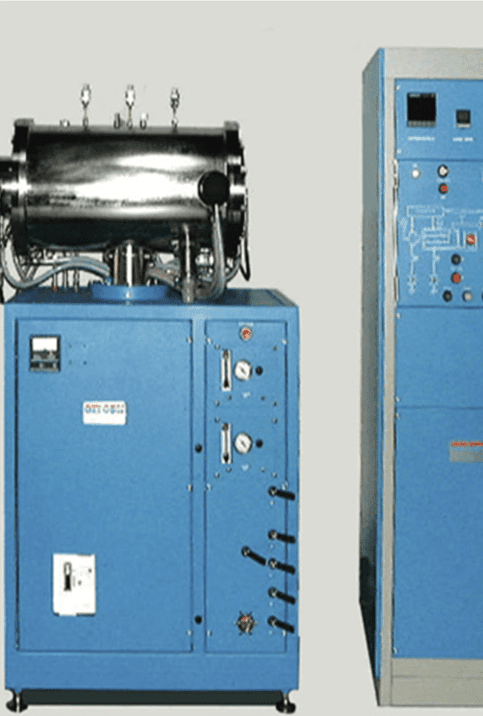 Oxy-Gon is a leading manufacturer of high temperature vacuum furnaces in a wide variety of configurations. Over the years we've had the opportunity to provide customers with numerous industrial and laboratory applications with the effective, efficient, and reliable furnaces they've needed.
Every one of our furnaces is manufactured with ease of use and reliability in mind. For every product, we take into consideration the level of performance and quality you require from an industrial furnace manufacturer and we add the convenient and valuable features that you can't expect from many others . In the end, what you get is a better furnace and a better end result, all at a competitive price.
Our EC series of end loading tube furnaces is designed to provide you with years of continuous service while requiring a low investment cost. Features include:

Programmable temperature controls


High grade graphite heating element

Heat zone sizes ranging from 2" ID to 6" ID and up to 48" long

Fully automatic PLC controlled pumping systems

Compatible with Inert Gas or Nitrogen

Compatible with Dry Hydrogen with optional system

Available recorders and data loggers

Available ceramic muffle kits for oxidizing/corrosive atmospheres

A High Range of Temperatures for a Wide Range of Applications
As an industrial furnace manufacture, we understand that the number of applications for industrial (and laboratory) furnaces is large. To meet the many needs of our customers everywhere, we've manufactured our end loading tube furnaces with versatility in mind. That means a wide range of temperatures, programmable temperature controls, and other helpful features.
Tube furnaces from Oxy-Gon are rated for a maximum operating temperature of 2500°C (4532°F) and will operate in vacuum, inert atmospheres, or Nitrogen. Common applications for the end loading tube furnace include:





The basic tube furnace system includes the following components:





Ceramic Muffle Tube Kits are available for oxidizing/corrosive atmospheres. Vertical mount is also available.
Furnace Assembly
The chamber of this tube furnace is double walled, 304L stainless steel and is electropolished to attain the highest vacuum quality. The power feed throughs, covers, and access lid are all nickel plated copper construction. Ports are incorporated in the chamber and/or access lid for a sight window, thermocouples, or an optical pyrometer.
Heat Zone
The element and insulation are high grade graphite. Heat Zone sized range from 2″ ID to 6″ ID x up to 48″ long with a muffle tube. Without the muffle tube, the size ranges from 2″ ID to 12″ ID x up to 48″ long. Other sizes are available upon request.
Power Supply
Power supplies can be supplied with any of the following characteristics: Single (1) or three (3) phase, 208, 380, or 480 volts, and 50 or 60 hertz. A typical power supply incorporates the following components: Stepdown tranformer, SCR power controller, circuit breaker, contactor, pushbuttons, and indicator lights. All components are wired and housed in a free standing cabinet.
Temperature Control
Depending on the customer's requirements, OXY-GON INDUSTRIES, INC. can incorporate as a part of the furnace system the programmer/controllers, recorders, and temperature control devices (i.e. thermocouple, optical pyrometer, or power transducer).
Pumping System
Manual through fully automatic (PLC control) pumping systems can be provided for the range of 10-20 Millitorr (rough vacuum with mechanical pump) through 10 -5 Torr (high vacuum with diffusion and mechanical pumps). Our typical standard system is automatic and consists of a diffusion or turbomolecular high vacuum pump, mechanical pump, the necessary valving, and a vacuum gauge controller. The system will consistently operate in the 10-5/ 10-6 Torr range.
Inert Gas/Nitrogen System
To allow operation using inert gases or Nitrogen, a kit which includes inlet/outlet valves and a pressure/ vacuum gauge is supplied as well as a glovebox interface kit.
How Can We Help Your Process
"Lorem ipsum dolor sit amet, consectetuer adipiscing elit. Aenean commodo ligula eget dolor. Aenean massa. Cum sociis natoque penatibus et magnis dis parturient montes, nascetur ridiculus mus."

TESTIMINONIAL NAME
"Lorem ipsum dolor sit amet, consectetuer adipiscing elit. Aenean commodo ligula eget dolor. Aenean massa. Cum sociis natoque penatibus et magnis dis parturient montes, nascetur ridiculus mus."

TESTIMINONIAL NAME
"Lorem ipsum dolor sit amet, consectetuer adipiscing elit. Aenean commodo ligula eget dolor. Aenean massa. Cum sociis natoque penatibus et magnis dis parturient montes, nascetur ridiculus mus."

TESTIMINONIAL NAME