The Oxy-Gon 120 Gas Purification Furnace
The Model OG-120 is a desktop size purification furnace designed to supply purified Inert Gases for smaller manufacturing production demands or for laboratory needs. Gasses processed by this furnace include Argon, Helium, Neon, Xenon, and Krypton.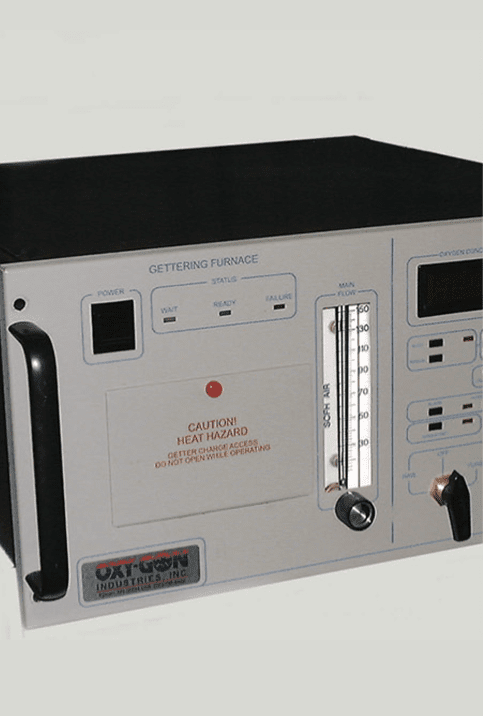 The OG-120 Lab Furnace: Technical Specifications
For those needing a small lab furnace, we've manufactured this to be a completely self-contained solution that you can rely on to purify inert gases to less than 1PPB of oxygen or better. In addition to removing oxygen, the OG-120 purifier also removes Nitrogen, Carbon, and Water Vapor, making it a comprehensive solution for a wide variety of lab and production applications.
By installing a special optional cartridge, the oxygen content of Nitrogen can be purged to the PPB range. The unit is designed to allow fast, easy replacement of the cartridge through a convenient front panel access door. Each getter cartridge can supply as much as 180,000 cubic feet of purified gas when used with standard industrial gas containing oxygen as high as 9-10 PPM.
The Model OG-120M is the same purifier with the addition of an oxygen monitor included within the self-contained chassis assembly.
Your Best Source for Gas Purification Laboratory Furnaces
At Oxy-Gon, when we design and manufacture lab furnaces, we use years of experience in the industry to ensure our furnaces have the specifications that make a difference for applications everywhere. When you need to reduce gas to an acceptable level, gas purification lab furnaces from Oxy-Gon are the reliable and effective solution you've been looking for.
Lab Furnace Features Include:


An auto ranging digital readout with manual override percent

Electronic calibration from the front panel

Raw or purified gas Oxygen level readout

How Can We Help Your Process
"Lorem ipsum dolor sit amet, consectetuer adipiscing elit. Aenean commodo ligula eget dolor. Aenean massa. Cum sociis natoque penatibus et magnis dis parturient montes, nascetur ridiculus mus."

TESTIMINONIAL NAME
"Lorem ipsum dolor sit amet, consectetuer adipiscing elit. Aenean commodo ligula eget dolor. Aenean massa. Cum sociis natoque penatibus et magnis dis parturient montes, nascetur ridiculus mus."

TESTIMINONIAL NAME
"Lorem ipsum dolor sit amet, consectetuer adipiscing elit. Aenean commodo ligula eget dolor. Aenean massa. Cum sociis natoque penatibus et magnis dis parturient montes, nascetur ridiculus mus."

TESTIMINONIAL NAME