High Temp Universal Application Furnace
FR Series
High Temp FR Series Universal Application Furnaces are designed to provide years of continuous service while requiring a low investment cost.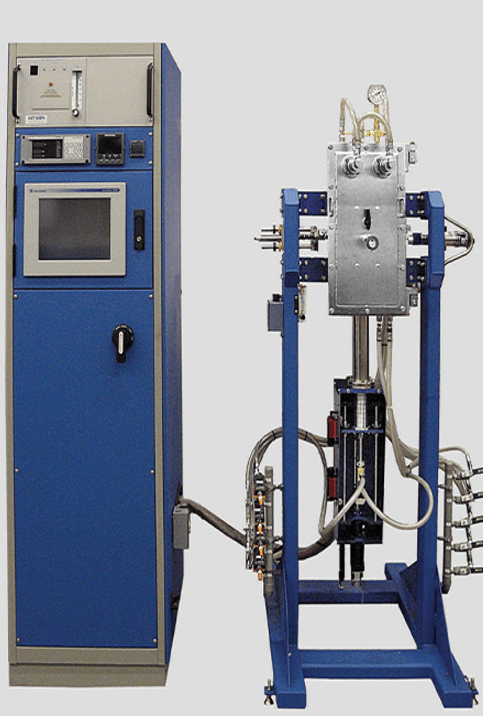 Oxy-Gon is a manufacturer of high temperature industrial furnaces built to meet your needs, now, tomorrow, and for many years to come. When you use high temp furnaces for applications like annealing and brazing, you require a solution that can deliver years of continuous service, performance, and reliability. At Oxy-Gon, we've developed a wide variety of furnaces to suit applications everywhere.
One of our most popular furnaces is the high temp FR series Universal Application Furnace, which has been designed to provide years of continuous service while requiring a low investment cost. This furnace can be rated up to a maximum operating temperature of 2,500 degrees C (4,532 degrees F) and will operate in vacuum, inert atmosphere, Nitrogen or Hydrogen.
The Universal Application Furnace: All the Furnace You Need
Whether you need a hot press furnace, a crystal growing furnace, or a diffusion bonding furnace, there's a good chance that our High temperature universal application furnace will fit your needs.









Basic High Temperature Furnace System includes the following components:






Additional features and specifications are also available
Furnace Assembly
Our high temperature furnace is assembled with strength and longevity in mind, with a chamber, front door, and rear cover manufactured with double walled, 304L stainless steel. On top of this, each component is electropolished to attain the best vacuum quality possible.
Ports are incorporated into the high temperature furnace's chamber and front door to accommodate a sight window, thermocouples, or an optical pyrometer.
Power to the rear of the element is supplied by silver plated copper power feedthroughs located on the rear cover, with power to the front element through silver plated copper knife switches. This allows us to eliminate power cables that are typically mounted on the front door.
The Heat Zone
When it comes to the design of your high temperature furnace, flexibility is one of our primary goals. With that in mind, one half of the element and the side and top shield packages are mounted on the front door of the furnace. This provides easy access to the work area of the heat zone, which can range from one inch diameter by one inch high up to four inches by four inches.
Depending on the operating temperatures of the unit and your common applications, the element and shield packages are available in Molybdenum, Tantalum, Tungsten, or Graphite.
How Can We Help Your Process
"Lorem ipsum dolor sit amet, consectetuer adipiscing elit. Aenean commodo ligula eget dolor. Aenean massa. Cum sociis natoque penatibus et magnis dis parturient montes, nascetur ridiculus mus."

TESTIMINONIAL NAME
"Lorem ipsum dolor sit amet, consectetuer adipiscing elit. Aenean commodo ligula eget dolor. Aenean massa. Cum sociis natoque penatibus et magnis dis parturient montes, nascetur ridiculus mus."

TESTIMINONIAL NAME
"Lorem ipsum dolor sit amet, consectetuer adipiscing elit. Aenean commodo ligula eget dolor. Aenean massa. Cum sociis natoque penatibus et magnis dis parturient montes, nascetur ridiculus mus."

TESTIMINONIAL NAME